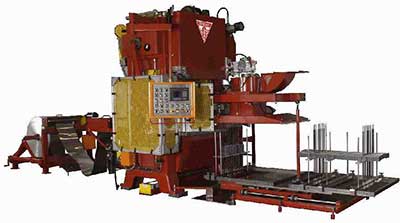 Tridan International offers a wide selection of fin press machines to choose from. Our fin press machines are available in a variety of press sizes. Also, we offer accessories for your fin press. No matter the size of demand, we have the perfect machine for you.
High Volume Fin Press Machines
For large manufacturing jobs, our high-volume fin presses are the perfect fit. Furthermore, models such as our Fin Collector VC-3wp, the Fin Press HFP75, and the Fin Press RLC75F can handle the largest jobs.  The HFP75 model combines state of the art guiding system with a traditional mechanical press frame technology. Our high-volume fin press is designed to improve productivity for any job.
When it comes to the HVAC industry fins can be known by many different names. At Tridan International our machines can produce a flat fin, also known as a stamped fin.
Fin Machines Volumes
Our medium and low volume machines are just as impressive as the high volume ones. The Fin Colector VC-2RM, Fin Die RDVS, and the Fin Press RLB45 round out our medium volume machines. While the FinMaster Die (FMTS), FinMaster Press (FM-4), FinMaster Collector (VC-2SM), and the FinMaster Uncoiler (FSU) are our low-volume machines.
In addition to fin production, we offer an extensive line of fin presses as well through Innovative Automation.  Innovative Automation offers these presses to choose from:
SMRP24 Fin Manufacturing Cell
SMRP20 Fin Press
SMRP20 Press & Cutoff Lines
SMRP24 Fin Press
Along with all the fin press machines, Tridan International also offers accessories for fin production. We have accessories available such as die carts, fin stock dollies. Also the Fin Stock Threader AFST and the Fin Stock Threader FST.  At Tridan International we have been in the business since 1966 and we are dedicated to providing the best durable machine solutions. Our machines are known to be reliable and durable for years to come. By owning a Tridan machine you can rest assured that your workflow will never be interrupted due to faulty equipment.
As part of the Innovative Automation family, we can provide the best products and services to all our customers. Our machines are located all over the globe in over 60 countries. If you would like to receive a quote on a Fin Production machine please fill out our no-hassle form. Also if you have any questions regarding Tridan please use our easy contact form. Or just give us a call today at 217-443-3592.