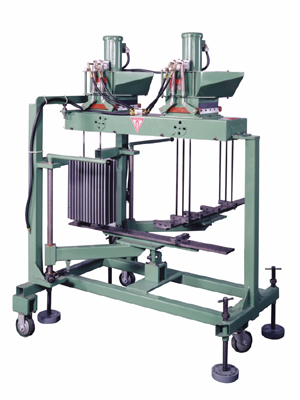 Swing Type Shuttle: Model VC-2SM
Tridan® has chosen the Swing-type to be used in conjunction with the Upper Vacuum Unit. Also, the Swing-Type combines simplicity, ruggedness and low cost into a design, which allows virtually uninterrupted operation on the FinMaster™, with the implied gains in productivity.
In addition, this Shuttle is manually operated, has two (2) collection positions and is positively located and locked into position under the Vacuum Unit.
FinMaster Series
This Vacuum-Type Collection system is supplied in a standard size to collect fins with a maximum length of 24" (610mm) in a 24" (610mm) stack height. Fin positions and/or powered indexing of the collector's arms are also available. Please contact Tridan® for details.
If you are interested in the FinMaster – Collector give us a call at 217-443-3592 or click here. Finally, we pride ourselves in providing everything a customer needs, so please contact us today!