Micro Channel Tube Cut To Length – MCCTL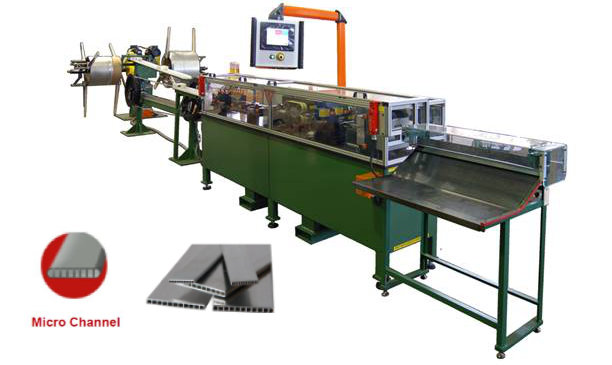 The Tridan Model MCCTL is a fully integrated system for cutting aluminum micro channel tubing to length. The system produces 120 parts per minute (based on a benchmark part length of 600mm). Also, our Patent Pending score and pulls apart cutting method produces a very high-quality cut with virtually no port collapse.
The system is fully integrated and includes:
Dual Powered Decoiler for level wound coils of extruded aluminum micro channel tubing
Two plane sizing and straightening section
Servo powered belt feeding system
Tridan's patent-pending score and pull apart a cutting system
Critical machine motions are accomplished using state of the art electric servos. Other actions are either mechanical or pneumatic. The control system is Allen Bradley and provides a control for fully automatic operation as well as manual control of most machine motions.
Optional features include:
Inline end forming
Vision inspection
Size inspection
Sorting and stacking
Micro Channel Tube Processing And Much More
With the dependability of a Tridan International machine, you can rest assured our machines will stay running all year long. In addition, Tridan has an experienced part and service department than can help you have your machine up and running in no time. In the unlikely event, the machine breaks down.  Also, our machines are designed to produce for you and have little to no maintenance.
When you choose a Tridan machine, rest assured you are getting one of the industry's best machines available. Also, Tridan has been an industry leader since 1966 and now with the combined backing of Livernois Engineering and Innovative Automation, it is hands down your best choice.  Finally, give us a call today at 217-443-3592 and find out what Tridan International can do for you and your company!