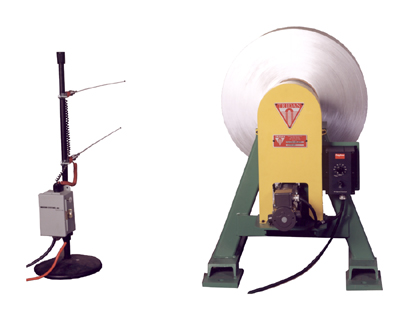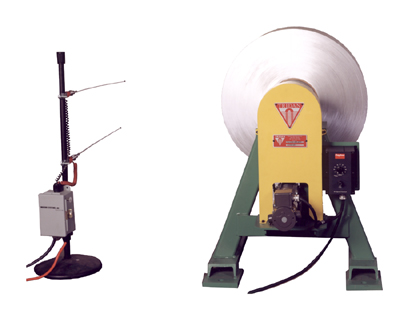 The function of the Fin Stock Uncoiling System is to supply fin material to the Fin Stock Lubrication System and the Fin Tooling. Also in a smooth uninterrupted manner, and with a minimal amount of tension being placed on the fin stock.
The Fin Stock Uncoiler supplied as an option with the Model FM-4 (FinMaster™) Fin Line is of a free standing design. The fin stock is secured on the Uncoiler's arbor by a set of tapered arbor pilots. This is through a manually operated adjustment lever located at end of the arbor. Designed for the most common coil ID of 6.000″(152.4mm), the arbor can be adapted to alternate inside diameters at customer request.
Uncoiler (FSU)
The arbor is in turn cantilever-mounted in bearings extending outward from the uncoiler's weldment-type frame.  Also, a permanent magnet DC motor with a speed control is used to power the uncoiler's drive system. Closed-loop control is provided by a sensor arm that is pre-set to allow proper feed speed and material tension.
Finally, contact us today for this or any other equipment you need.