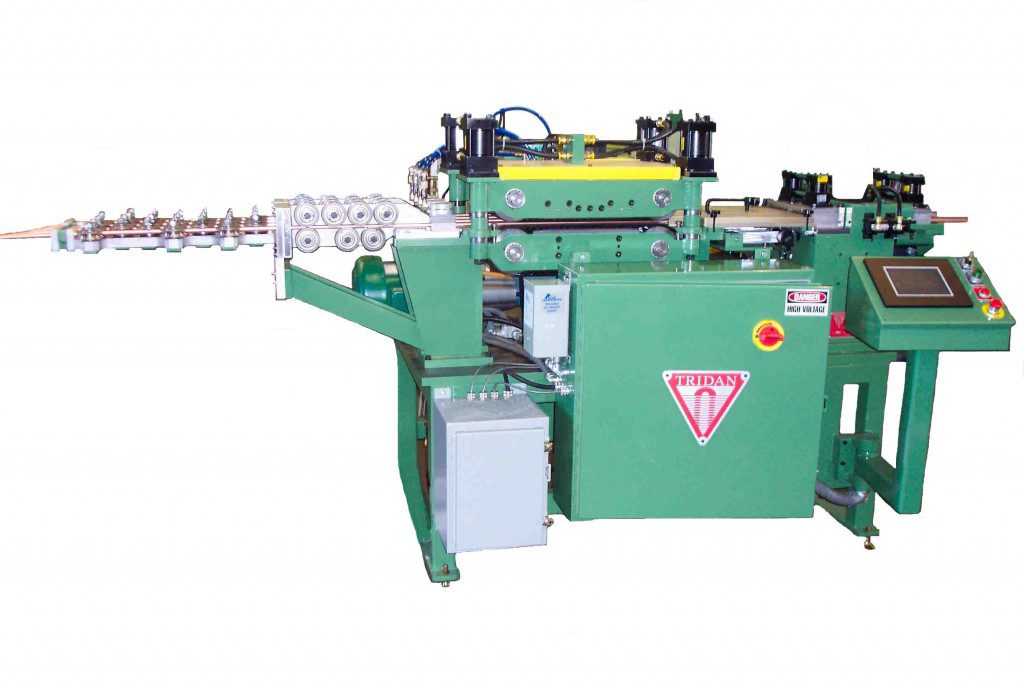 If you are looking for the best copper tube straightening tools in the industry, then Tridan International is the right choice for you. At Tridan International we have a multitude of machines that can handle copper tube end forming and copper tube straightening.
One of our popular tube straighteners is STMBC. This machine is used to cut and straighten to any length, level-wound coiled tubing of either aluminum or copper. Also, this machine features Tube Straightening, Sizing Section, chipless Tube Cutoff Section, and Tube Feeding Section that has adjustable-length. This Machine is also available with an optional Tube End Resizing System.
The STVC Tube Straightening Machine
The STVC Tube Straightener is another popular model of copper and aluminum tube straightener. Like the STMBC, the STVC includes Tube Straightening, Lubrication, and Sizing Section, as well as a Feeding Section. In addition, the tube straightener, cutoff, and feeding sections are all mounted onto a machined base plate. This serves to the weldment-constructed hydraulic reservoir. This rugged and durable machine is designed for maximum output with little downtime.
Copper Pipe Straightener End Forming
If it is copper tube end forming you are after, then look no further than the STQC-4W. This machine is used to create a flare or bell end on the copper tube. The machine is hydraulically powered and can be controlled through the main panel. The STQC-4W forms the ends with a plunge-type internal sizing punch. This durable and long-lasting tube end former machine is only available through Tridan International.
When it comes to a copper pipe straightener or end forming, the industry leader is Tridan International. With decades of experience in machine manufacturing, you know you are getting a quality machine that will last for a long time. If you are interested in machines that can produce quality products for years to come, contact Tridan today and see what they can do for you.