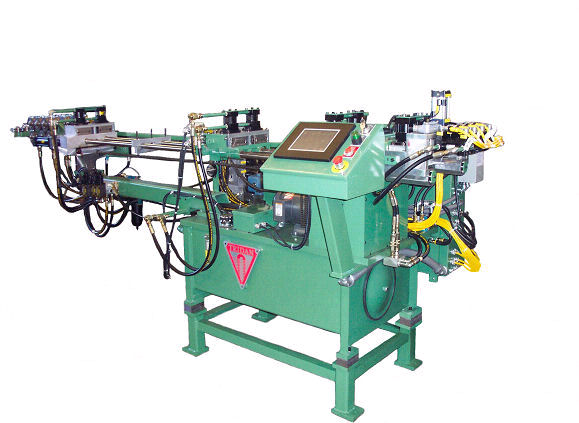 For production applications wherein the Model STMC-4 will be utilized to produce straight tubes with a bell or flare on the tube end, it is recommended that the optional tube end forming system be applied. When it comes to making an HVAC system, a good tube straightener is essential.
STMC End Former
The Tube End Former is located outboard from the cutoff head and the tension clamp. It is hydraulically powered and is controlled through the main push button panel. The tube ends are formed through a plunger-type internal sizing punch. Also, with this machine tube end forming because incredibly easy.
The punch is machined for the exact form configuration required and reaching the end of its adjustment stroke will simultaneously produce both bell and flare on the tube end. In addition to the STMC, Tridan partnered with Innovative Automation, offers a complete line of tube and fin production machines.  This machine can handle just about any size volume. Also, it is easy to maintain and reliable.
Tube fabrication can be end forming, straightening, expansion, and any type of shaping a tube.  Also, we carry an extensive line up of machines that are available to any part of the country. Tridan has clients in Alabama, Tennessee, Indiana, Michigan, and all across the country. In addition to the United States, we also have many clients overseas as well. When it comes to machines to produce HVAC systems, Tridan is the top brand in the industry. Finally, contact us today or give us a call at 217-443-3894 and see what we can do for you.