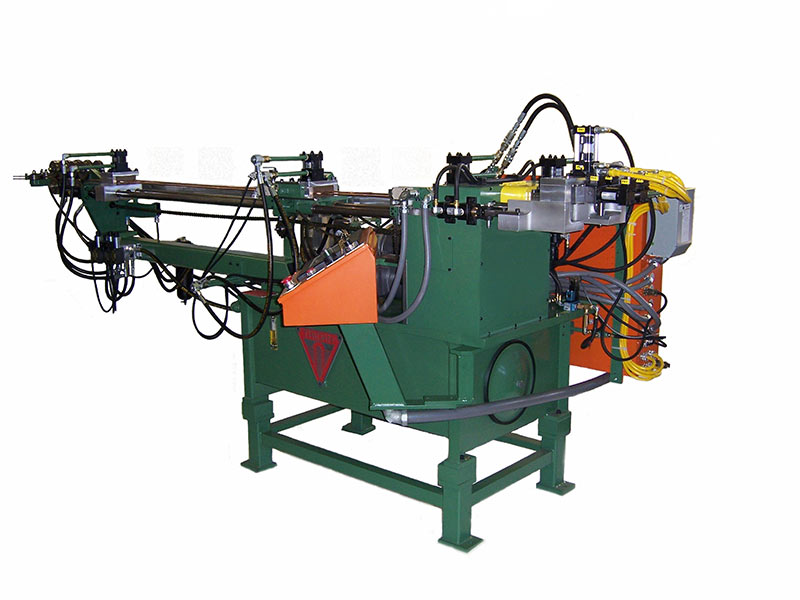 For production applications wherein the Model STQC-4W will be utilized to produce Straight tube with a bell or flare on the tube end, it is recommended that the Optional tube end forming system be applied. A tube flare fitting is a compression fitting on metal tubing. Also, the bell end is a more expanded type end to the tubing.
STQC-4W Ability
The Tube End Former is located outboard from the cutoff head and the tension Clamp. It is hydraulically powered and is controlled through the main pushbutton Panel. The tube ends are formed through a plunger-type internal sizing punch. The STQC-4W will work with many different types of tubing. Materials such as aluminum, copper, and many more.
The punch is machined to the exact form configuration required and by reaching the end of its adjustment stroke will simultaneously produce both bell and flare on the tube end. This machine is one of the many tube fabrication machines we offer.  In addition, being partnered with Innovative Automation, helps us provide even greater resources to our customers.
At Tridan we have a rich history of providing industry-leading production machines that are reliable and trustworthy. Also, our machines can handle any volume of workload you throw at them.  If you would like to learn more about our products, give us a call at 217-443-3592 and find out what we can do for you!