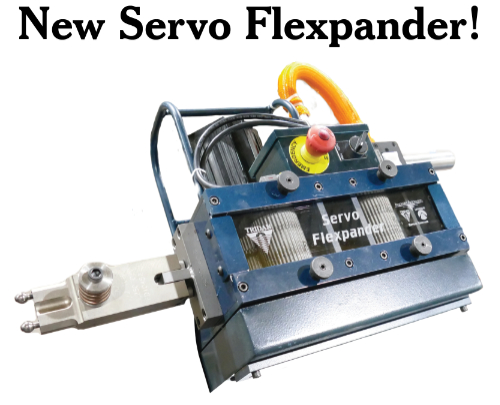 Tridan International is introducing its latest product, the Servo Flexpander! 50 years ago, our company had the honor of introducing the first flexpander. However, technology has changed over the years. As a result, Tridan has been focusing on a new flexpander for the modern era! So, what makes the Servo Flexpander so unique?
What is a Flexpander?
To understand the amazing quality of our new flexpander, it is important to know what it is. The flexpander is a unique Tridan development. The machine is a semi-portable mechanical tube expander for heat transfer coils. In addition, the hydraulic-powered tube expander can expand two tubes per cycle. This allows coils constructed with U-Bend or straight tubes to expand. This product has many benefits. In addition to being portable, the flexpander's versatility makes it an ideal tool for any size coil producer. Furthermore, it does equally well for volume production. Tridan has many models of this coil expander in our catalog such as:
However, these are the benefits of the original model. So, what is the difference between the original flexpander and servo?
Servo Flexpander
The original flexpander was praised for its flexibility and versatility in volume production applications. Pair that with its ease of use and performance, it is no surprise why the flexpander became widely used in the heat transfer industry. The Servo Flexpander expands upon the capabilities of the original, taking advantage of modern technology. The new expander can use on new heat exchanger materials such as mild steel, cupro-nickel, aluminum brass, and stainless steel. Also, Servo can now expand tubes with thicker walls, increasing the machine's versatility significantly. This tube expander gives a higher level of control to improve performance, speed, adjustability, and efficiency.
Now its time to introduce the Servo Flexpander's features:
High Flexible Operation
High Versatility in Operation
High Agility in Operation
Capability to Expand a Wide Variety of Materials
Excellent Quality due to Precise Control
Configurability for a Wide Range of Tube Sizes/Tube Center Distances
Available in Standard, Wide, and Extra Wide Format
Flexpanders at Tridan International
Tridan is proud to be introducing the Servo Flexpander to our line of products. Don't worry! Tridan still will have the original flexpander for purchase. Check out all your options for coil expansion machinery by requesting a quote today!