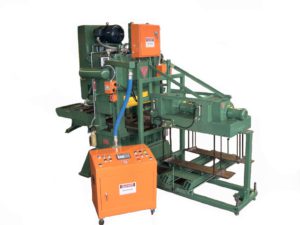 What exactly is heat exchanger production? A plate-fin heat exchanger, for example, is a heat exchanger that uses finned chambers and plates to transfer the heat between fluids. This type of heat exchanger is used in a variety of industries such as aerospace and cryogenics. Aluminum alloy fin heat exchangers have been used in the aircraft industry for decades. At its core, a heat exchanger is just a device that is used to transfer heat to different fluids.
Some of our machinery for heat exchanger production includes the Fin Press – HFP75. This machine is designed for high-volume manufactures of heat exchanger coils. The Fin Press-HFP75 is designed with features to improve productivity and little setup time.
Heat Exchanger Production and Fin Production
At Tridan International we have a whole line of Fin Production machines that can help you manufacture heat exchanger parts with ease. Also, our machinery for heat exchanger fin production is available in low, medium, or high volume. Our low volume fin production include FinMaster – Die (FMTS), FinMaster – Collector (VC-2SM), FinMaster – Press (FM-4) and the FinMaster – Uncoiler (FSU).
Our medium volume fin production includes Fin Collector – VC-2RM, Fin Die  – RDVS and the Fin Press – RLB45.  Finally, our high volume line includes the Fin Collector – VC-3WP, Fin Press – HFP75, and the Fin Press – RLC75F. As you can see, we have an extensive line of fin production machines to cover any volume of workload.
Along with our extensive Fin Production line, we also provide tube fabrication machinery and coil expansion machinery as well. If you would like to learn more about our fin production machinery or any of our other products you can request a quote here or; give us a call at 217-443-3592.  Tridan International is one of the premier suppliers of fin production machinery in the nation and we stand behind all our products!
Innovative Manufacturing
In addition, our parent company Innovation Automation offers more alternatives for heat exchanger manufacturing with the  SMRP24. It is the featured production machine in their Fin Press Line. Working better together our divisions produce machines to meet the heat exchanger production quotas of manufacturing companies in the U.S. as well as internationally.
Rev. 4/16/21