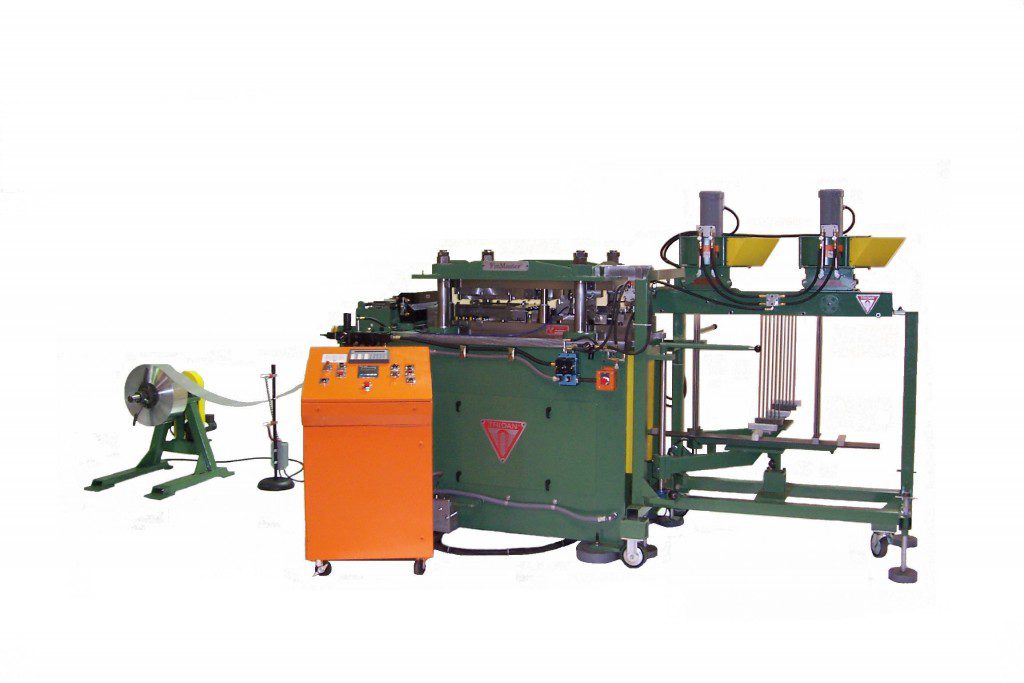 Tridan International is one of the industry's leading Fin Machine Manufacturers. Since 1966 Tridan has been manufacturing fin production machines for any volume of work. Our Fin Production machines are durable and very dependable. Also along with the machines, we sell accessories for fin production machines. Accessories like the die cart, fin stock dolly, and the fin stock threader are available.
Other fin press manufacturers do not have the extensive line-up of machines to choose from as Tridan does. Our high volume machines such as the Fin Collector – VC-3WSP, the Fin pRess – HFP75 and the Fin Press – RLC75F are always in high demand. For a quote on our fin production machines click here.
Finned Heat Exchanger Production Machines
If your company is a high-volume manufacturer of heat exchanger coils, then the Fin Press – HFP75 is exactly what you are looking for. The HFP75 comes with a state-of-the-art guiding system and very operator-friendly controls. It is designed to decrease set-up time and increase productivity. Another popular Fin Press is the RLC75F. This series of Fin Press was first built in 1971. Since that time the press is known to produce maximum productivity. It achieves this by simple setups, minimum floor space, and low-cost maintenance.
In addition, the Fin Master Uncoiler (FSU), supplies fin material to the Fin Stock Lubrication System and the Fin Tooling in a smooth flow that will not be interrupted. The Fin Stock Uncoiler is an option to the FinMaster Model FM-4. The FinMaster Press is made for use with a tooling station. They are created to produce a ribbon-type Fin. The FinMaster Press combined with the FinMaster Uncoiler makes for quick and steady work. With quick and easy setup, it excels as machinery for heat exchanger fin production.
Tridan One Of The Best Fin Machine Manufacturers
As you can see, Tridan is one of the top Fin Machine Manufacturers in the world today. Also, as part of the Innovative Automation family, we provide fin production machines all over. From Texas to Illinois, we ship around the globe. Finally, our Fin Production line can help you meet any volume of work. Contact us today for more details on how Tridan International can benefit your company.