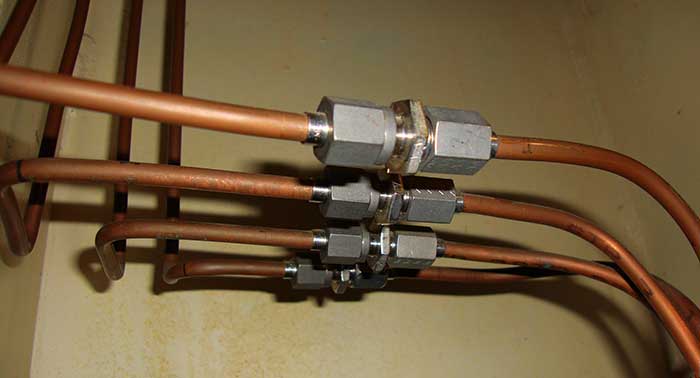 Copper Tubing is an integral part to any HVAC system. The primary use of copper tubing is to transport water either hot or cold inside buildings and homes. One of the other primary uses of copper tubing is for air-conditioning and refrigeration systems.  Copper tubing is a great choice for an air-conditioning unit, because it is resistant to corrosion, machinability, great heat transfer, and also consumption of less refrigerant.
Reasons To Choose Copper Tube Over Aluminum
At one point aluminum was used over copper in air-conditioning units. In addition to being less expensive, aluminum also has high transfer properties. But the downside of the aluminum choice was the high maintenance costs. Aluminum is very hard to repair and most of the time needs to be totally replaced. Copper tube, on the other hand, is 8 times more durable than aluminum. With the best part being it is also a high thermal conductor.
Copper tube has pretty much-replaced aluminum in almost all condenser coils. The copper tubing has proved to be a much better option over its aluminum counterpart. Copper has superior strength, reliability, excellent heat transfer, and ease of repair all better than aluminum. When looking for copper tubing straightening tools, look no further than Tridan International.
Here at Tridan International, we have an extensive line-up of equipment for tube straightening.  Models such as the STMBC, STMC, STQC and the STVC are all available to help you with your tube straightening workload.  Of course, tube fabrication is not the only equipment we carry. We also have equipment for coil expansion, fin production, and even lubricants.
We have been working with some of the top HVAC manufacturers in the world and we know exactly the equipment you need. Let the experienced crew at Tridan International help you with your next purchase. Finally, give us a call today at 217-443-3592 or contact us now to order your next Tridan machine!