Tridan International, Inc. provides heat exchanger production machinery to manufacturers worldwide.
Heat exchanger manufacturers looking for durable machinery that will provide decades of dependable operation, choose Tridan. We know that our customer service and support is the key to our customer's satisfaction.  In today's competitive environment, it is important to have machinery that has the strength to withstand the forces of daily production. Tube expanders, for example, can have a heavy-duty, high-volume schedule. In other applications, the semi-portable Flexpander is a tube expander for coils that may better serve the manufacturing environment. Regardless, Tridan's strength and quality help customers maintain a reliable flow of accurately produced parts. Especially when it comes to tube-expanding machines.
We offer a wide range of machinery and tooling for Fin Stamping, Coil Expansion (tube expanding), and  Tube Fabrication applications such as Cut to Length, Hairpin Benders, Return Benders, End Sizers and Braze Ring Loaders.
Newest Heat Exchanger Tube Expanders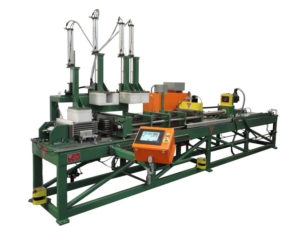 One of Tridan's newest and most successful offerings is the Model CHE Servo-Powered Cellular Horizontal Expander.  This tube expander is designed for the simultaneous tube expansion and final belling of all tubes within small to medium-sized coils.  Its PLC control system allows for a very precise, fully-automatic setup of varying coil lengths.  By simply choosing a coil model from a pre-programmed menu, the machine will automatically cycle the distance required.  The setup for the coil width and height is manual, however, it requires minimal effort and time by design. The precision tooling and fixture features of the CHE reduce or eliminate the need to add or remove pattern tooling in the machine in order to accommodate varying coil sizes!
The CHE horizontal expander uses no hydraulics.  The tube expansion stroke is actuated by a very powerful and rugged servo motor that drives a precision high-capacity roller screw that cycles the expansion ram.  The operation of the machine is very clean and exceptionally quiet compared to conventional hydraulic-powered expanders.  Energy consumption is also reduced since the machine only consumes electricity when it is actively cycling.
Tube Expanding Machines from Tridan
We are currently working on several new designs that will be made available to coil/heat exchanger manufacturers. Tridan's factory and engineering center in Danville, Illinois is 130 miles from the worldwide distribution hub of Chicago, Illinois, USA. Finally, we are now part of the Innovative Automation family. This allows us to provide even more great products for you!
---
Servo Flexpander
Tridan International introduced the first Flexpander almost 50 years ago. Since that time, 1000's of these hydraulic workhorses have been implemented in almost every heat exchange manufacturing facility throughout the world. This classic Flexpander is still available. Additionally, we now offer our new Servo Flexpander!