The process of a tube expander machine is the reduction of the tube wall while compressing the outside diameter of the tube. There are different types of tube expander machines such as hydraulic tube expansion, elastic tube expansion, and the expander method.
At Tridan International we have an extensive variety of tube expanders to choose from. Also, our tube or coil expansion machines are available in vertical, horizontal, semi-portable, and tube end expansion. An example of one of our horizontal expanders is the Cellular Horizontal Expander – CHE. This machine can expand and add final belling all at once.
Qual-Ekon – HE Tube Expander Machines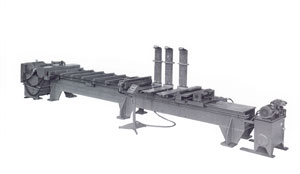 The Qual-Ekon – HE Tube Expander Machines have been a favorite machine among our clients. This machine is fully automatic and meant for a large-volume coil manufacturer. The machine is made of two sub-systems. The first sub-system is the Coil Expansion System and the other is the Unloading System.
Both of the systems are designed to run fully automatic. The Qual-Ekon can produce Double One Row Coils of unequal length. It also at the same time can provide expansion of two one-row coils of equal length. If you are looking to get the job done faster and more efficiently then the Qual-Ekon is the right choice.
Tube Expanders from Tridan International
The Qual-Ekon is just one of our tube expanders, we also offer the Cellular Horizontal Expander, as well as the Semi-Automatic HEX. Are you looking for tube end expansion? Then our Tube End Sizer – BTH, BTM, BFA, or the BTP might be what you are looking for.  We here at Tridan, want to answer any questions you may have about our machines. Give us a call today at 217-443-3592. Finally, if you need service or parts for your Tridan machine, contact our service department at 217-554-7532 or use our service form and we will answer your questions!