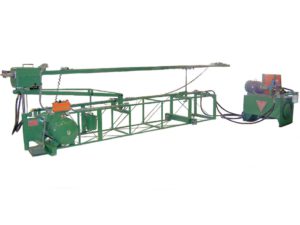 When it comes to tube expander manufacturers, you need the professionals at Tridan International. Tube expansion is the process of reducing the tube wall while compressing the outside diameter of the tube. There are different types of tube expanders such as hydraulic or elastic tube expansion, and the expander method.
The hydraulic process uses an even pressure from inside the tube using a fluid, most likely water. The elastic expansion uses a special rubber component. The tube expansion method pushes and expands tubes that have been inserted in the holes of the tube sheet. Few tube expander manufacturers have the selection and experience of Tridan International
Tube Expander Types
At Tridan, we have an extensive variety of tube expanders to choose from. Also, our tube or coil expansion machines are available in horizontal, vertical, semi-portable, and tube end expansion. An example of our horizontal expander is the Cellular Horizontal Expander – CHE. This type of tube expansion machinery can expand and add final belling all at once. To request a quote for a CHE, click here.
For more of a vertical expansion machine, the LSE-Low Profile- Single Side, is a great fit for your shop. The design for this machine is meant for space, so if your shop is limited in space, this is the machine for you.  This machine has some unique features such as a fully machined expander frame, full-length adjustment screws, and much more!
Tube Expanding Machines at Tridan
As you can see, with such a large variety of machines and producing quality products since 1967, it is no wonder why Tridan is an industry leader in tube expanders. Tridan has been one of the nation's leading tube expander manufacturers for decades. Furthermore, our strength and quality help tube manufacturers produce a reliable flow of very accurately produced products. Also, at Tridan we supply machines to over 60 countries and 1,000 customers.
With a world-class tube expander manufacturer at your disposal, you cannot go wrong! Give us a call today at 217-443-3592 or get a great quote by filling out our form.