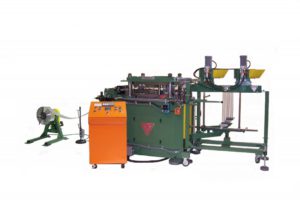 Fin Production is essential to any HVAC system. Michigan fin production companies use the industry-leading fin production machines from Tridan International. Fins can be responsible for up to 70% of the heat transfer process.
At Tridan International we have an extensive selection of fin production machines to choose from. One of our popular fin press is the HFP75. This model is for high volume manufacturers. The HFP75 also has traditional mechanical press frame technology with a guiding system and user-friendly controls.
Michigan Fin Production Fin Collector
Our Fin Collector VC-3WP is used for aluminum fins only. Also, this machine has a standard construction for a ribbon-type fin dies is a manually operated twin shuffle. In addition, the complete fin collector and vacuum unit are built as a movable unit to facilitate fin die removal and installation at the front of the press. Also, it is mounted on heavy-duty rollers with the front rollers casters. In service, the unit bolts to the lower die shoe and the air and electrical connections are quick-connect.
Along with these machines, Tridan offers medium volume and low volume machines as well. The medium volume models include VC-2RM, RDVS, and the fin press RLB45. Also, the low volume machines include FMTS, VC-2SM, FM-4 and the uncoiler FSU.
Tridan has been supplying fin production machines to Michigan, Ohio, Indiana, Wisconsin and all of the Midwest. Along with dependable durable equipment, Tridan offers lubricants that you need for fin production. Lubricants such as evaporative lube, petroleum, and hydraulic oil TriLub. The TriLub hydraulic oils are designed to maintain system cleanliness and smooth functioning.
In addition to lubricants, our parts and service department are always here to help with any troubles that may arrive. Finally, give us a call today at 217-443-3592 or contact us now to order your fin production machine. We deliver to Michigan and to all over the country!