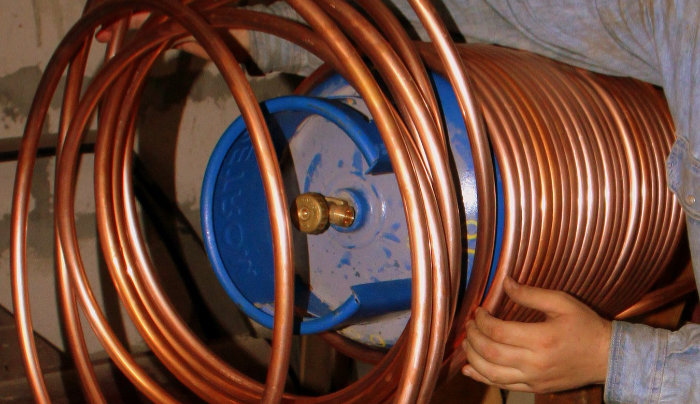 Coiled tubing straightener machines come in a variety of models. As a result, these machines can do different tasks. However, what goes into the straightening process? What types of tube straighteners are there? Furthermore, what industries use these machines?
Straightener Machine Process
All tube straightener machines have a similar process when it comes to uncoiling a tube. All machines have a series of roles that vary depending on what material they are processing. As the coiled tube goes through the straightener, it passes through these rolls. The tube is held and rotated between the top and bottom rows of rolls, allowing for the material is straighten equally. This process exposes the tube to the 2 different forces that allow for straightening; bend straightening and pressure straightening. The end result is an even and straight tube. All straighteners have this basic concept. However, different models have additional features that can optimize the process.
Different Types of Coiled Tubing Straighteners
A tube straightener's primary task is to straighten coils and rolls. However, different models are capable of doing additional tasks or specific functions. For example, the STVC Tube Straightener is capable of cutting and uncoiling aluminum and copper tubing. In addition, this specific model has different systems integrated into the machine. These systems include lubrication and chip-free tube cutoff section. This difference allows for the STVC Tube Straightener to differentiate itself from other machines.
Straightening models like STMC and STMBC have end-forming functions added to the machine. Furthermore, it also uses a belt feeding system that is different from other machines. Furthermore, the STQC has a cut-into-length line and chip-free orbital cutoff. As you can see, these machines often have additional functionality outside of straightening coiled or rolled tubes. All of these variations allow for these machines to serve a variety of industries.
Tube Straightener in Different Industries
So, what type of industries are tube straighteners used in? After all, it might not be obvious for the average person when these machines are used. Aerospace often uses tube straighteners to produce tubes that can be used in different parts for airplanes and spaceships. Furthermore, the medical and surgical fields use these machines to help create parts for machines that will endure longer than other tubes. Likewise, consumer electronics uses these tubes to create products like TVs and other commonly used products. There are just a few industries that use tube straighteners. However, it is clear that these machines play a part in everyday products and machines.
Buy Tube Straighteners From Tridan International
Tridan International has been creating durable machines since 1966. All of our machines are designed to create years of dependable operation. In addition to our top-tier machine designs, our customer service is guaranteed to satisfy. So, get your tube straighteners at Tridan today.