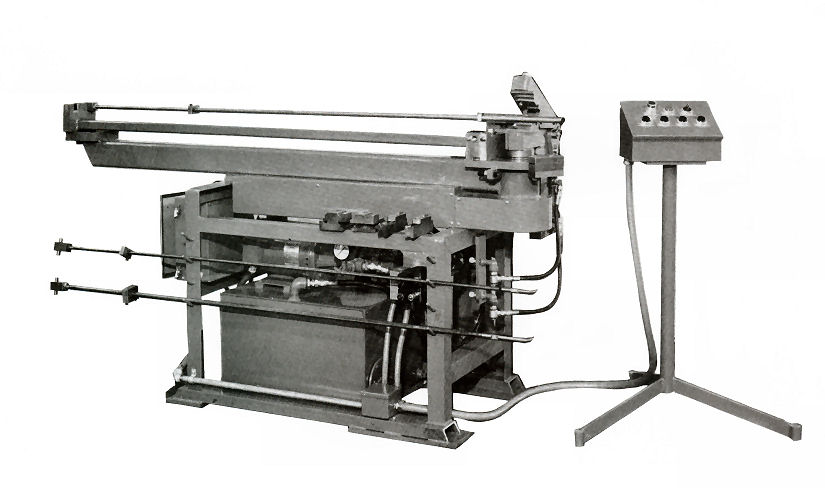 The TRIDAN® Model PB-2 Powered Tube Bender is a heavy-duty tube bender with all its tube bending functions hydraulically powered. It is designed for copper, aluminum, mild steel, and brass alloy tubing having outside diameters' between 5/16" (7.94mm) and 1-3/8" (34.9mm). The PB-2 bends one tube per cycle and is capable of producing multiple bends in the same tube with a minimum tangent length between successive bends.
Power Tube Benders
The PB-2 Bender was designed with the unique requirements of heat transfer coil production in mind and the versatility makes it particularly adapted to the production of bends for many air conditioning and refrigeration applications.
Of course, this is just of the many types of hairpin benders we offer at Tridan International.  In addition to the power tube benders, we offer the AHBH, AHBM, AHBQ, and many others.  The AHBH is an automatic hairpin bender that offers an automatic hopper feed.
At Tridan International, we offer a long rich history of building machines that are durable and reliable. Also, we are now a part of the Innovative Automation family. This family also includes Livernois Engineering.  With the expertise from all the companies combined, we can provide you with the best possible solutions available today.
In addition, we provide the best parts and service in the industry.  At Tridan International our customer service is job one and we strive to provide the best customer service available.  Give us a call today at 217-443-3592 for service. If you would like to learn more or have questions on our machines call us at 217-443-3592.