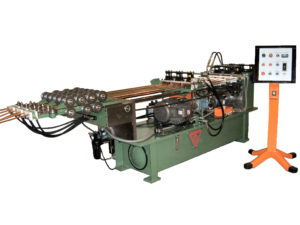 Tube Straighteners and Cut-to-Length Line designed to size, straighten, and cut-to-length ribbed aluminum extrusions.
---
Benefits of Tube Straighteners
A tube straightener is exactly what the name implies.  It is a machine that is used to straighten copper or other forms of tubing.  In addition, there are different types of straighteners you can choose from.  Some of the machines can also form end the tube as well, like the Tridan STMC. This machine can add a flare or bell end to the tube. While the STQS is used to just cut off the tube at predetermined lengths.
Of course, these are just a few of the great machines available at Tridan International.  In addition to tube straighteners, we also offer other HVAC building machines as well. Machines such as our numerous fin production machines.  From high volume to low volume our fin production machines can handle any workload. Also, we offer a variety of lubricants to choose from.  Our lubricants are known as some of the best in the industry and will help keep your machines running smoothly for years to come.
At Tridan International, we are now part of the Innovative Automation group. Innovative Automation offers unique solutions and machines that can give you a manufacturing advantage.  Also, when it comes to Tridan and Innovative Automation, we offer some of the best customer services in the industry. GIve us a call today at 217-443-3592 to talk to our experienced staff to answer all your questions.