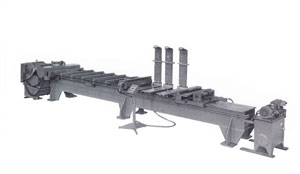 If you need efficient heat transfer in your HVAC system proper coil expansion is a must. When looking for equipment for coil expansion solution in Georgia, look no further than Tridan International.
Expansion coil or Evaporator coils are an integral part of any cooling system. With a coil expansion system, air is passed through the outside of the coils to let it be directly cooled.
HVAC systems need the proper parts to function properly, and at Tridan International, we supply the machines necessary to build the parts you need for your systems. The right coil expansion solution is right here at Tridan, we have clients all over the country including Georgia, Tennessee, Alabama and more.
Tridan Your Coil Expansion Solution
As stated earlier, we provide the machines you need to build the parts for your HVAC systems. When it comes to building HVAC cooling systems, the first place you should turn to is Tridan International. Our equipment can handle low or high volume workloads. In addition, Tridan equipment has become the industry standard in HVAC coil expansion.  We offer horizontal or vertical expansion machines to best fit your workshop.
The Cellular Horizontal Expander and the Qual-Ekon are our top selling horizontal machines. The Cellular Horizontal Expander is built to expand and final belling at the same time. It also features a fully automatic coil length setup adjustment and needs very little change over time. This particular expander does not use hydraulics. Instead, this machine uses a powerful servo motor.
Of course, the Cellular Horizontal Expander and the Qual-Ekon are just a few of our coil expanding machines available throughout Georgia and the country.  Here at Tridan, we sell equipment throughout the world and have been in the coil manufacturing business since 1966. If you have questions about our products or placing an order please call us today at 217-443-3592 or use our easy contact form.