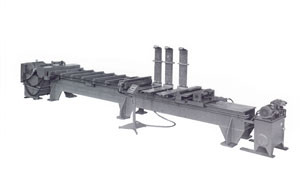 Coil expansion machinery is used in the production of coils for the heating and cooling industry. Everyday, coils bust form use, from age to wear and tear there are a number of reasons a coil may break. Along with coils breaking, inside fins can corrode as well.
When it comes to coil or fin production, Tridan International is the preferred brand. We offer both coil expansion and fin production machinery to help you produce the best product possible. In addition, our machines can help you produce all types of coils.
Coil Expansion Machinery or Fin Production Equipment
Our machines can produce a variety of coils or fins. Coils such as chilled water coils, hot water coils, steam coils, steam distribution coils, and evaporator coils to name a few. Our Cellular Horizontal Coil Expander, for example, can be used to expand the coil as well as final belling within a small to medium-sized plate fin type heat exchanger coils. Also, the Cellular Horizontal Expander has a manual setup but are easy to accomplish.
We offer quite an extensive line of coil expanders. Our machines are built for any size shop or work volume. Of course, along with coil expanders, we offer fin production machinery as well. Also, our machines are used to make air conditioner fins. Our fin production machines reduce cost and maintain worker safety.  If your company handles a more high volume work load our HFP75 Fin Press is the machine for you.
Micro Channel Tube Processing
Are you looking for a machine that can cut aluminum micro channel tubing to length? Look no further than the MCCTL. This particular machine can produce up to 120 parts per minute. As you can see, at Tridan International we offer a full line up of production machines. From coil expanding to fin production, we have it all. Give us a call today at 217-443-3592 and see what Tridan can do for you!