A heat exchanger creates a transfer of heat from one fluid to another. However, this process is completed without mixing the liquids together. There are many types of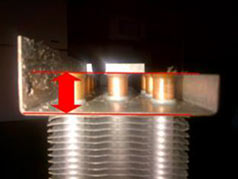 applications that utilize heat exchangers. From the food industry to heating and cooling, heat exchangers are a very important part of the machinery. Various types of machinery that utilize heat exchangers are:
Refrigeration systems
Central Heating Boilers
HVAC systems
Tridan International builds machines that make parts for manufacturing heat exchangers. Heat exchanger manufacturers turn to Tridan to purchase the equipment and machines they need.
Get Machine Quotes for Building Heat Exchangers
Heat exchangers serve a major role in heat transfer solutions for various machinery in different industries. With that being said,  a specific type of machinery for building heat exchangers is needed for production. The type of heat exchanger you are looking determines the type of machine needed. Tridan fin machine models are built to handle different levels of production. With a wide variety of fin press production machines, companies in any industry can contact Tridan to get a machine quote.
Building Fin Press Heat Exchangers
With a fin press heat exchanger, heat is transferred between fluids using a plate of finned chambers. In order to create the various sizes of fins, a special fin press machine is required. Regardless of the industrial requirements, Tridan offers a machine that fits all fin production requirements. We are the leading manufacturer of fin press machinery.  Because of this, our fin press machine specialists can help answer any questions you may have about the machinery that is best for your fin production business.
Click here for a quote on fin press production machines
Also, Fin press production machines are not the only type of production machinery we offer. Manufacturers can get quotes on various machines from Tridan International: