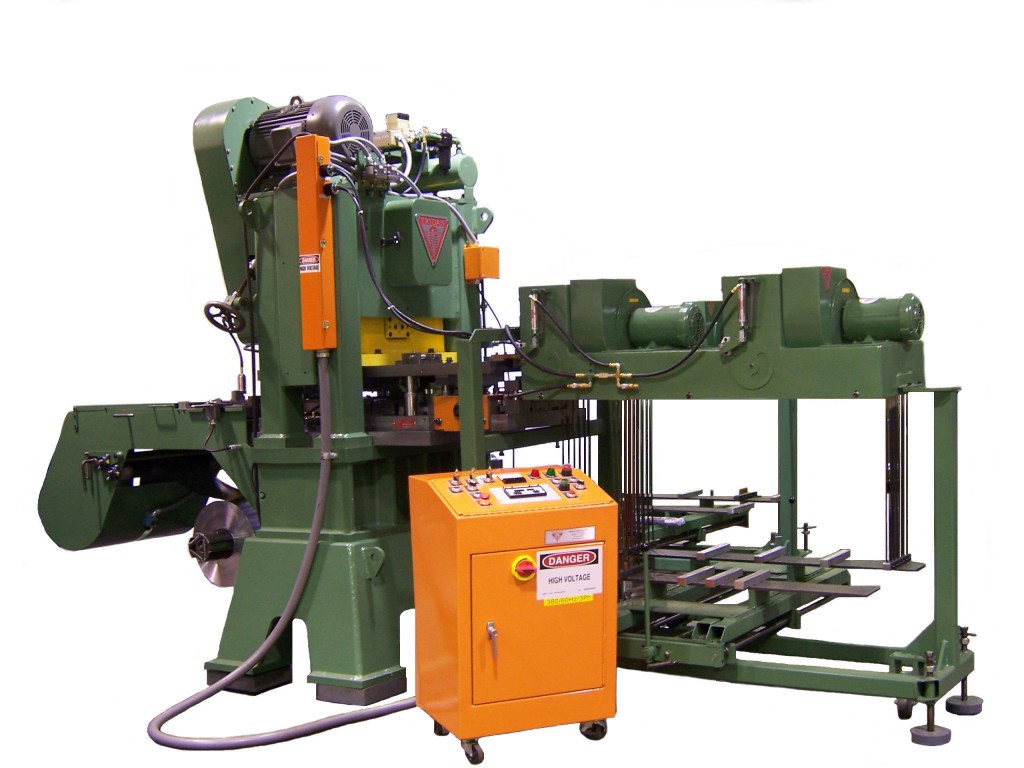 There are different types of heat transfer fins. At Tridan International we sell the machines you need to make the right fins you need. With Innovative Automation and Tridan International together, we can supply the exact machine you need to build the perfect HVAC System.  Fins are surfaces that extend from an object to increase the rate of heat transfer to or from the environment by increasing convection. There are different types to choose from.
Heat Transfer Fins
Fins are used in a variety of industries such as HVAC and power plants. In addition, heat transfer fins are used in air conditioners and other engineering applications. Tridan's Fin Press Machines are the top choice for manufacturing fins.
Fin Press Models
The Model HFP75 press is engineered for use by high-volume manufacturers of heat exchanger coils. It combines traditional mechanical press frame technology with a state of the art guiding system. It also has operator-friendly controls to form a unique press to run fin dies.
The RLC-Series is designed primarily for use with the Model RDVS-type of Ribbon Fin Die. This employs TRIDAN's Self-Contained Pull Feed-type Die Feeding System. And the combination of the RDVS Fin Die and the RLB Fin Line has helped in eliminating the concept of "captive" dies within fin press. This allows coil manufacturers are able to use several Fin Dies in one Fin Line.
The first RLC-Series Fin Lines were built in 1971, as a replacement for the older RL-Series of Fin Lines. Also, they were designed and developed by the founders TRIDAN prior to its formation, while employed by one of the world's leading O.E.M. coil manufacturers.
Fin Production
At Tridan International, our customers come first. We pride ourselves on industry-leading customer service. In addition, our parts and service department can help you maintain all your Tridan machines. As part of the Innovative Automation family, we benefit from great resources.  With this partnership, we can offer the full heat exchanger service you need under one roof. Contact us today at 217-443-3592 or use our easy contact form.