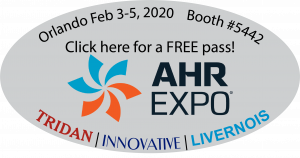 The AHR Expo is the hands-down the world's largest HVACR event. Industry professionals from all around the world will be at this annual event. In addition, the latest trends and applications in HVAC will be on display. All types of segments from the industry will be there. Also, expect to see product designers, engineers, installers, and end-users will all be there.
Furthermore, there are free seminars at the expo as well. There will be over 50 free seminars. Seminars such as Key Factors for a Successful Snowmelt Design and BACnet Edge Solutions: Ideal for loT.  Also, AHR recognizes innovations in the HVACR industry. The AHR Expo Innovation Awards is an annual award given to innovators and their accomplishments.
2020 AHR Expo Ticket Request
As you can see there are many reasons to attend the AHR Expo. If you are looking to attend the expo and would like to request tickets then you are in luck. Tridan, Innovative Automation, and Livernois Engineering are giving away tickets to the event that is held February 3-5 in Orlando Florida.  For a ticket request, simply fill out the form below.  One of our representatives will contact you about the ticket details. Also, make sure to visit us while at the show.
Innovative Automation | Livernois Engineering | Tridan International | – BETTER TOGETHER
While at the show, make sure to visit the Tridan, Innovation, and Livernois booth. The three companies together provide the best HVAC solutions in the industry. In addition, when it comes to fin development we can provide the best machines for all your needs. In addition, we provide parts and service for all our customers. Finally, request a quote today from Tridan International or give us a call at 217-443-3592.