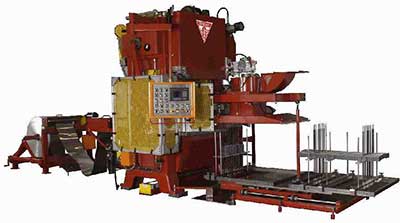 ---
Alabama fin production, Michigan fin production, Georgia fin production, no matter where you are at in the country, our fin production machines can help you produce HVAC systems. Our equipment is geared towards helping HVAC manufacturers build their systems. We have machines for every step such as fin production, tube fabrication, coil expansion, microchannel tube processing and lubricants.
Of course, if our standard machines do not fit what you need, we offer special designs as well. Also, we can provide research and development tooling, plus sample product runoff. Tridan also provides complete confidentiality with any new or proprietary design.
Alabama Fin Production or Georgia Fin Production
High-performance heat exchangers need efficient heat transferring fins. That is where our machines such as the HFP75 or the RLC75F come in.  The hfp75 Fin press is used for high volume manufacturing of heat exchanger coils. This machine is designed to cut down on set up time and increase ease of operation.
The RLC75F fin press allows you to use several Fin Dies in on Fin Line. The machine offers simple setup, low maintenance, and maximum productivity. These are just a few of the machines we have to offer. ALong with the machines, we offer accessories that can make the workload even easier.
Accessories such as die cart, fin stock dolly, and tow different types of fin stock threaders. The die cart can handle up to 5,000 lbs and has a lift table. The fin stock dolly is used to speed up the process of changing coils. Also, this dolly has a 3000lb  capacity and an 18″ lift.
At Tridan International we have been providing quality machines to manufacturers in Alabama, Georgia, Michigan and all over the United States. In addition to reliable equipment, we also offer parts and service on our equipment. Give us a call today at 217-443-3592 or use our easy quote form today!