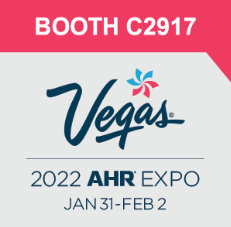 Tridan International is proud to announce that we will be attending the 2022 AHR Expo. You can visit us at Booth #C2917. The AHR Expo is International Air-Conditioning, Heating, Refrigerating Exposition which actually started 88 years ago. Also, this show will be held in Las Vegas, Nevada at the Las Vegas Convention Center. With over 2000 suppliers and manufacturers, it is one of the biggest events in the HVAC industry.
There will be hundreds of products on display ranging from AC, Heating, and Refrigeration equipment to software. In addition, this expo is meant for professionals that work in the HVAC industry. People such as OEMs, Distributors, Rep Firms, Engineering and Design, as well as Contracting firms.
AHR Expo Registration
The good news is registration is free for the expo! But hurry registration is only available for a limited time. Along with the show itself, there will also be free seminars. These seminars are held by industry groups and there are over 50 to choose from. Along with seminars, classes and courses are offered as well. At Tridan International, we find that the AHR Expo is a great way to stay informed about all the new things happening in the HVAC Industry.
The expo is a great place to network and learn about the latest products and technologies.  Make sure to stop by and visit us at booth #C2917. You can add us to your show itinerary. Our product categories are benders, pipe benders, coils, condensers, evaporators, heat exchangers, oil, tube expanders, and more. We are always excited to see new faces wanting to learn about Tridans' extensive product line.
Of course, if you would like to learn more about our machines or need service and parts, feel free to give us a call at 217-443-3592 or contact us today. Finally, see you January 31st – February 2nd , 2022 at the AHR Expo in Las Vegas, Nevada!