Show Time!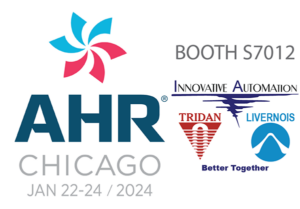 Tridan International, Innovative Automation, and Livernois Engineering are proud to announce that we will be exhibiting at the 2024 AHR Expo. With new products and exciting developments to discuss, we look forward to seeing everyone at this show. Please join us at Booth #S7012 as we re-connect with customers, suppliers, and friends for this productive and enjoyable show.
The 2024 AHR Expo will be held at McCormick Place in Chicago, Illinois from January 22nd through January 24th.
The Tridan International facility in Danville, Illinois is a short three-hour drive from the show in Chicago. We would love to have you plan a visit to the plant while at the show, please reach out for details at [email protected].