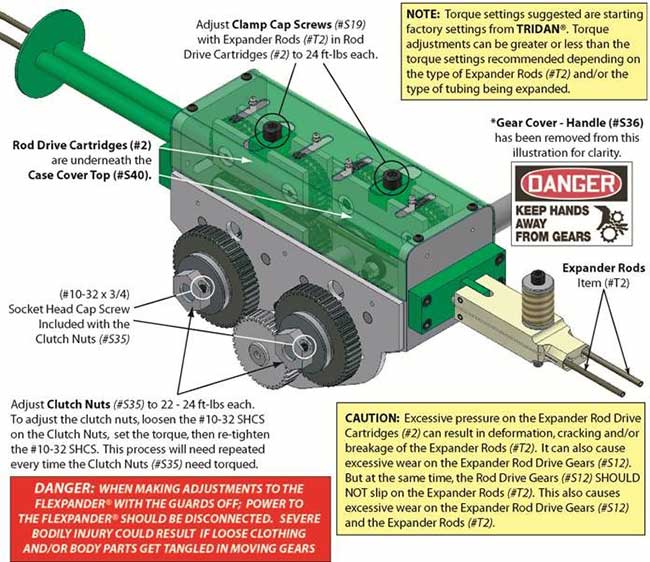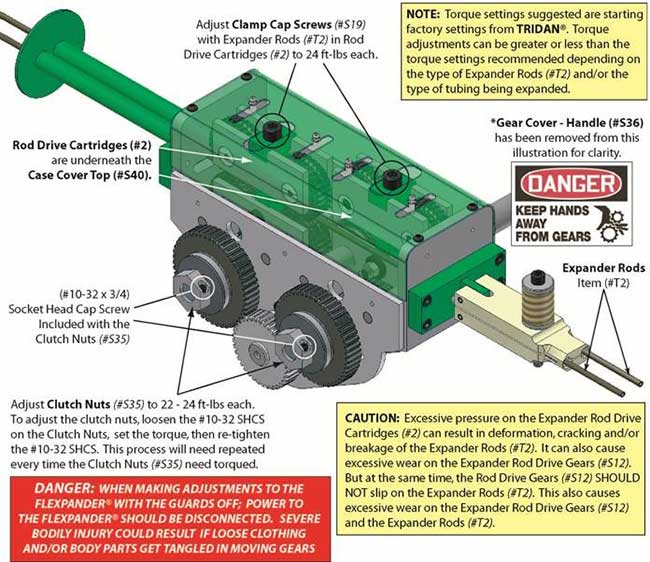 Service Tips For The Tridan Flexpander
If you own a Tridan Flexpander or are responsible for the maintenance on a Flexpander, we would like to take the time to show you some helpful maintenance tips for your equipment. Our Flexpander line is some of the best on the market today. These mechanical tube expanders can handle any work load. Also, rest assured that when you buy a Tridan Flexpander, the quality speaks for itself.
One of the first tips for the Flexpander is to routinely check the torque settings on your Flexpander rods and clutch nuts. This will maximize machine performance and component life.
Flexpander Torque Adjustments
Follow these procedures for torque adjustments, first set the torque on the Clamp Cap Screws (#S19) to 24 ft-lbs each. To access the Clutch nuts, the Gear Cover Handle (#S/36) needs to be removed. Also, to adjust the Clutch nuts, loosen the #10-32 Socket Head Cap Screws on the Clutch Nuts. Then set the torque to 22-24 ft-lbs, then re-tighten the #10-32 Socket Head Cap Screws. This process will need to repeat every time the Clutch Nuts need re-torque.
Next, adjust both clutches and retighten set screws. Then turn on the hydraulic power unit. Using the manual cycle switch, turn on the Flexpander. In addition, the clutches should slip at a reading of 900 to 950 psi on the hydraulic power unit pressure gage. Finally, replace the Gear Cover Handle Assembly (#S/35). If more torque is needed for the Clamp Cap Screws or Clutch Nuts, repeat the previous steps and increase the torque by 2 ft-lbs each time.
Caution and Notes For the Tridan Flexpander
Excessive pressure on the Expander Rod Drive Cartridges (#2) can result in deformation, cracking or breakage of the Expander Rods (#6). It can also cause excessive wear on the Expander Rod Drive Gears (#S12). But at the same time, the Rod Drive Gears should not slip on the Expander Rods, also causing excessive wear on the Expander Rod Drive Gears (#12) and Expander Rods.
The torque settings suggested are starting factory setting from TRIDAN®.  Torque adjustment can be greater or less than torque settings recommended depending on the type of Expander Rod and/or the type of tubing being expanded.
These are just a few tips for our Flexpander equipment. If you would like more maintenance or service tips on any of our equipment, feel free to contact our service department here. We are always glad to hear from our loyal customers!