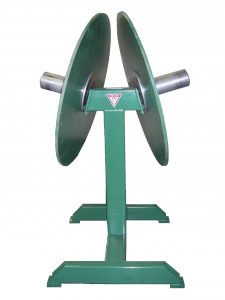 The function of the tubing uncoiler stand is to provide a smooth and even flow of tubing. This helps during the feed cycle with controlled deceleration at the termination of the feed stroke.
The tubing uncoiler stand will consist of one or more pairs of coil positions on opposed sides of the stand's frame. Each position will incorporate a spindle mounted cast aluminum uncoiler hub with the axis of the spindles being in the horizontal plane. All positions will incorporate a friction brake to prevent backlash and provide some deceleration. The coil reels are securely retained on the uncoiler hub by means of a pointed stud on the inside face of the hubs flange.
USB-2-4C Tubing Uncoiler
The standard uncoiler hub is designed for a 5″(127mm) diameter hole in the corrugated paper reel; however, special diameter hubs are available. The standard uncoiler stand will accept a maximum reel flange diameter of 42/44″ (107/112cm), a maximum width over the flanges of 12/14″ (30/36cm), and a maximum coil weight in excess of 300 pounds (136Kg). For bare tube coils (not reel-mounted) permanent payoff reels are available as an option.
Tridan Providing Over 55 Years of Service
At Tridan International all our machines are reliable and durable.  When looking for machines that can get the job done and stay running that is a Tridan machine. Also, now that we are a part of the Innovative Automation family, we can offer much more.  With the resources of both companies, we can supply you with the best options available. From fin production to accessories we have everything you need.
In addition, Tridan has one of the best parts and services in the industry. We are always willing to help all of our customers. Finally, give us a call today at 217-443-3592 to see what Tidan International can do for you!