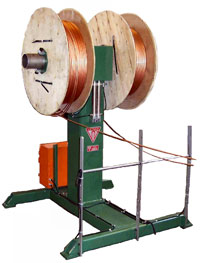 This is a special USB-2-2CBP is a Tube Decoiler Stand that is used to unreel level wound tubing. This Decoiler stand is available in 2, 4, 6, and 8 coil capacities. This special uncoiler is controlled by a microprocessor and power starts the uncoiling process. Stopping is controlled by an air-operated brake.
It is also pictured with permanent payoff coils for tube supplied without cardboard spools.
Tube Uncoiler
At Tridan International we have a variety of tube uncoilers to choose from. In addition, we have accessories for our tube fabrication machines.
Tube Tim Saw – TTS
Tube Collector Table – CT
USB-2-2C Tube Uncoiler
Tube Uncoiler – USB-2-2CBP
USB-2-4C
USB-2-6C
As a member of the Innovative Automation family, we can provide you with some of the best fin production and tube forming machines in the industry. In addition, to great accessories, we offer a full line of lubricants to choose from as well.  Our machines are dependable machines that you can rely on all year long. Also, we pride ourselves in our service and parts department. If you are looking for a part on your current Tridan machine, contact us today.
Tridan has been providing the best machines for decades and we stand by our products. Furthermore, if you are not quite sure what type of machine you need, call one of our experts today at 217-443-3592. Our experienced staff can answer all your questions you may have. Finally, contact us now to place your order for one of our great products, you will be glad you did.