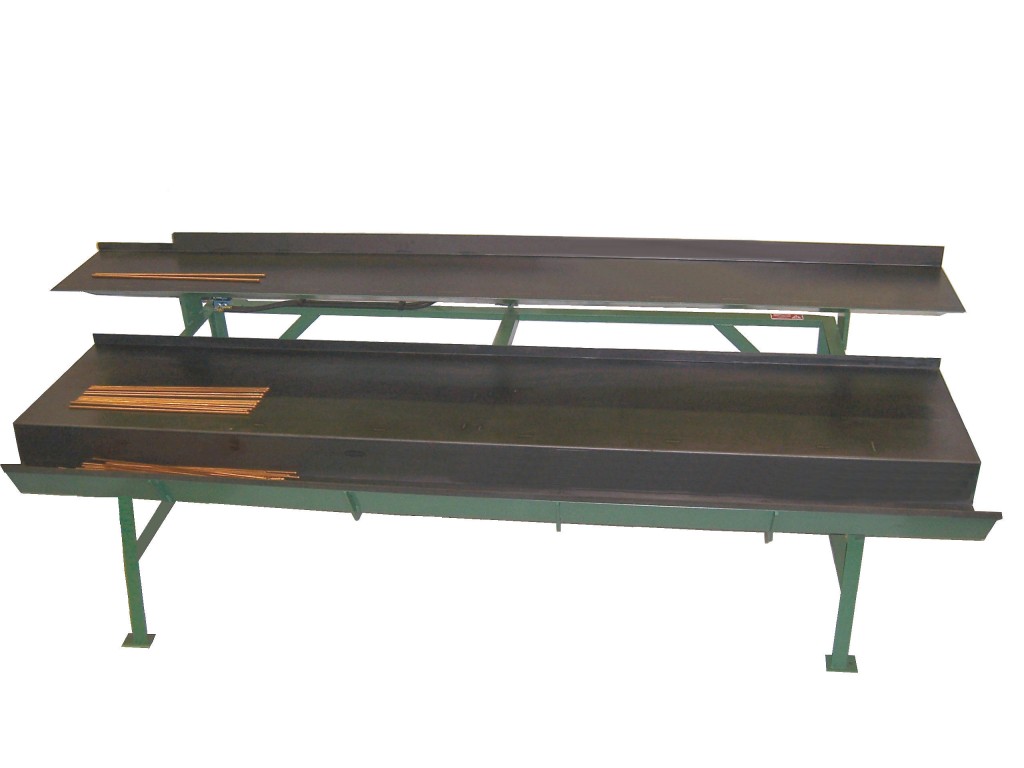 The tubing runout/collector table consists of a specially designed air operated dump table of a tubular weldment frame design with a tube collection area. Also, this device provides support for straight lengths of copper or aluminum tube. Without this support, the tubing can bend, creating lacing trouble on coils. As the tubes are being fed, the runout table is in the horizontal position, thereby providing support for the tubes.
Tube Collector Table Available From Tridan
After the cutoff, the cut tube lengths are pushed from the cutoff head and tension clamps by the following tubes and deposited on the runout table. The air cylinders, which hold the table in the horizontal plane, are de-activated. This allows the cut lengths to roll down this inclined plane into the collection area.
The cylinders are then re-activated, returning the table to the horizontal plane to support the following tubes. The operation and sequencing of the dump table are controlled by the machine's control system to ensure smooth operation. This is one of the many products that sets Tridan and Innovative Automation apart from other companies.
Better Together
When it comes to innovative machines to assist in the creation of HVAC systems, Tridan is your best source. In addition to collector tables, we offer a full line up of fin production machines.  In addition, we also offer tube fabrication machines as well.
Finally, we pride ourselves on the best customer service in the industry. If you have questions about our products, please feel free to reach out to us at 217-443-3592. You can also use our contact form as well. Together with Livernois Engineering, Innovative Automation, and Tridan International, we offer the most complete solutions for HVAC systems.