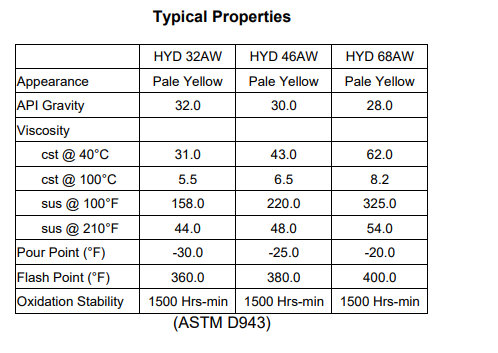 HYD-AW is one of the many lubricants that Tridan offers. Tridan offers a complete line of lubricants to address all areas of coil manufacturing. In addition, these lubricants are formulated and manufactured using state of the art technology.  This allows for optimal performance.
Our product is assured by a quality management program that uses a statistical process. This process covers both incoming raw materials and the outgoing finished product. Also, quality control tests include x-ray, fluorescent analysis, infrared analysis, and more.
HYD-AW Hydraulic Oil
TriLub HYD-AW series hydraulic oils are available in ISO 32, 46, and 68 grade ranges, allowing for selection of the correct viscosity for most hydraulic systems and climates. They contain rust and oxidations inhibitors as well as anti-wear additives.
An effective foam inhibitor is present, which allows entrained air to be quickly released in service. All TriLub HYD-AW series hydraulic oils are designed to maintain system cleanliness and smooth functioning, even under the most severe operating conditions. The chart on the page shows you what grades of lubricants are available for purchase.
As part of the Innovative Automation group, we strive to provide you with the best product available.  In addition, we also offer other lubricants such as evaporative lube, petroleum lube, punch relief, rust relief, and more. If you would like to place an order for one of our lubricants please call us at 217-443-3592 or use our easy contact form.  Finally, at Tridan we are always innovating for ways to produce quality fin or tube products. Our machines are some of the industries best and will never disappoint.
When it comes to HVAC production a Tridan machine should be your first choice. With great customer service and reliable machines you can count on, Tridan International is always the best choice! Order your lubricants or fin production machines today!